All About Al
I was born in Toronto on the 16th of May, 1943, the same day my father left Toronto for Halifax, and the ship that was to take him to England and the war against Germany.
| | |
| --- | --- |
| click to enlarge | This pic was taken in Aug of 1943 just after my Christening. Holding me is my Godmother, Aunt May, along with my Godfather, Uncle Fred. |
| | |
| --- | --- |
| click to enlarge | Pretty sharp looking young lad eh? This photo was taken on Cedric Ave. in Toronto, where I spent my early years. It was the home of my grandparents where mom stayed while dad was at war. After the war, jobs were tough to find and my parents stayed on there for some time until dad could find work and get established. |
There were several years after the war when dad couldn't find decent jobs and we moved from place to place. He eventually re-enlisted in the RCAF, and we continued to move about.
I attended 16 different public schools and 9 different high schools and didn't graduate until I was 55 years old!
Al And The Military
The Air Cadets.

| | |
| --- | --- |
| click to enlarge | Here I'm pictured in my Air Cadet Uniform in 1956 or 57. A very undistinguished career, as I made the lofty rank of AC1 (Aircraftsman 1st Class)! When you enlist as a rookie, you start with the rank of AC2 (commonly referred to as Acey Deucy), so you can see how many times I got promoted. I was a member of 102 Barrie Silver Fox Squadron from Nov. 1955 to Dec, 1959. |
RCAF Reserve.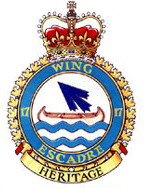 On the 17th of Jan. 1960 I joined 17 Wing, RCAF Auxiliary in Winnipeg Man. On 17 July I was promoted to AC1 and on 31 Aug. I graduated the RTTP program as a Group 1 Fighter Control Operator.
This was during the Cold War with the Russians and we took our training very seriously. As a Fighter Cop., I operated a radar set that was used to control CF-100 fighter aircraft, directing them to intercept unknown aircraft for identification purposes. We were always on the lookout for unidentified A/C coming over the polar route from Russia.
This was while I was a high school student in Winnipeg Manitoba. Due to a lot of moving about, and spending a lot of time at 17 Wing, my marks at school suffered. I had to make a choice, so I left the Reserve Unit on Sept. 18, 1960 and tried to improve my marks at school.
I left my parents home in Winnipeg and moved myself to Toronto and returned to the Ontario system in an attempt to salvage my High School Diploma.
It didn't work, and I left school to join the military.
The Canadian Army.

On 24 Nov. 1961, I headed to the recruiting office on St. Clair Ave. in Toronto and, even though my father was in the RCAF and I had been in the Air Cadets and the RCAF Reserve, I enlisted in the army and was sent to the Royal Canadian Artillery Gunnery School in Shilo Man.

click to enlarge
Here I am in front of the barracks at Shilo beside one of the big guns used in WWll. It was the first time I had worn my dress uniform.

On 11th of June, 1962 I qualified as a Grp 1 Gunner and was posted to the 4th RCHA Regiment at CFB Petawawa Ont.
| | |
| --- | --- |
| click to enlarge | Here I'm in the barracks at 4 RCHA in Petawawa. The day after this pic was taken I was shipped by train to Camp Gagetown in New Brunswick to play war games in the "Newfy Sunshine" (sorry, no insult intended). The only day the sun was visible was the day we left by convoy for the return trip to Petawawa. |
On 14 Dec. I qualified as a Grp 2 Gnr. and Grp 2 Driver. On 25 May, 1963 I was "Struck off Strength" the Cdn Army on transfer to the RCAF.
The RCAF

In 1963 I saw the error of my ways, and found a way to leave the RCHA and move to the RCAF. It was my father, because of his years in the military, who told me that it was possible to transfer between services. He also told me that, to his knowledge, it hadn't been done since the second World War.
27 May 1963 saw me posted to 2 Manning Depot at St. Jean Que.
| | |
| --- | --- |
| click to enlarge | Graduation Day from basic training at the RCAF school in St. Jean Que. Because of my previous service with the army, I had an easy time with basic training, and graduated at the top of the course on Aug. 2, 1963. |
After basic, I was sent to the Electronics School at Clinton Ont. on 3 Aug. 63, and was trained as a Radar Tech.
After graduation, on 11 Apr. 1964 I proceeded to CFB Borden, and was trained as an Instrument Technician.
| | |
| --- | --- |
| click to enlarge | I was posted to 436 Sqn., RCAF Stn. Uplands on 14 Oct. 1964. At that time the Sqn. was equipped with C119 Boxcars (left) and Cosmopolitan aircraft. |
| | |
| --- | --- |
| click to enlarge | While I was there, the RCAF took delivery of the C130 transport (left) and we got very busy doing acceptance inspections on the new aircraft. This Herc (02) is the first one I worked on as an I-Tech. 436 Sqn. is now located at Trenton Ont. |
Speaking of aircraft, while at Camp Borden, I started the lessons that would lead to a pilot's licence!
On the 5th of June 1966 I left the RCAF to return to civilian life and I moved into a bachelor pad in Toronto.
Al the Pilot
| | |
| --- | --- |
| click to enlarge | My first flight began on June 25,1964. It was in an Aeronca Champ (65hp), pictured above. My first solo flight was on Sep. 1, 1964. |
Upon my transfer to RCAF Uplands, I was forced to complete my Private Pilot training at the Ottawa Flying Club. On March 1, 1965 I passed the flight test for my Private Pilot's Licence.

click to enlarge
This picture was taken of me beside a Piper Super Cub at the Kingston airport in the summer of 1965.

I went on to obtain a Commercial Pilotīs Licence with an Instructor and Multi-engine rating.
| | |
| --- | --- |
| click to enlarge | I moved to Kingston Ont. in 1972 to work at the Nortel Kingston Cable Plant. My first flying job was non-paying as I worked to gain flying time and experience with Torontair on their Cessna 337 on a freight run between Kingston ON and Syracuse NY. |
My one and only paying job as a pilot was at Kingston Air Services where I taught both the air and the ground school lessons, as well as single and multi engine charters. All of this was part time while employed at Nortel. Click here to view a list of all the aircraft that I have flown.
Al at Nortel
| | |
| --- | --- |
| click to enlarge | I am a retiree from the Nortel Cable plant in Kingston. For 26 years I was employed there working in various departments making telephone cable. As a long time employee, I was able to settle into some of the softer jobs. Above you see me hard at work on the night shift just a month before my retirement. I hope my former boss doesn't see this. So far I haven't heard from you Jim, so I can assume you haven't seen it yet. |
For anyone visiting Kingston Ont., I strongly recommend a moonlight dinner cruise on the 1000 Islands. Click here to learn more about the dinner cruises.
Al The Racing Fan
I've had an interest in stock car racing since the 60's when I used to go to the Pinecrest Speedway in Toronto Ontario on Saturday nights. We used to look forward to the "big boys" coming in from New York, Ohio, Michigan, or even Cayuga (just 100 miles away) for the "big races". Pinecrest was a quarter mile, paved track with a concrete outside wall.
If you think the racing was bush league, think again. Richard Petty ran his first NASCAR race in Toronto. Jr. Hanley raced there on occasion, and the 1974 NASCAR Winston Cup Rookie of the Year, Earl Ross raced there on a regular basis. The "Daytona Don", Don Biederman showed up for all the special events in those days as well. My roots are in short track racing. I took many photos at the track but they have all disappeared over the years.
My only personal racing experience came in go-karts at Shannonville Motorsport Park, many years ago. It was in a 4 stroke division, and no, I didn't win anything, not even one race. But I did have had fun!
Now I am limited to TV coverage, racing pools and an occasional visit to a track for a live race. I was at Pocono for the Pennsylvania 500 in 2003 and 2004, and plan a return visit this year (2005), as well as Richmond Virgina in May for the Busch and Cup races.
The racing pool that has the most bang for the buck is Virtual Thunder™. I say the most bang for the buck because you can play along in about any class of racing, at most of the major tracks in the world, as well as local tracks throughout Canada and the USA FOR FREE! If you choose, you can become a paying member then become eligible for prize money. If you are interested in pools for any form of racing, check it out by clicking on the banner below.
If you choose to join in the fun, my user name is Swellal and my pit crews are titled "Canuck Fever" for Nextel Cup, Craftsman Trucks, Busch Series and CASCAR Super Series. With the exception of CASCAR, my crews are all Canadian. If you wish to join any of my crews, send along a request to join through the Virtual Thunder™ site.